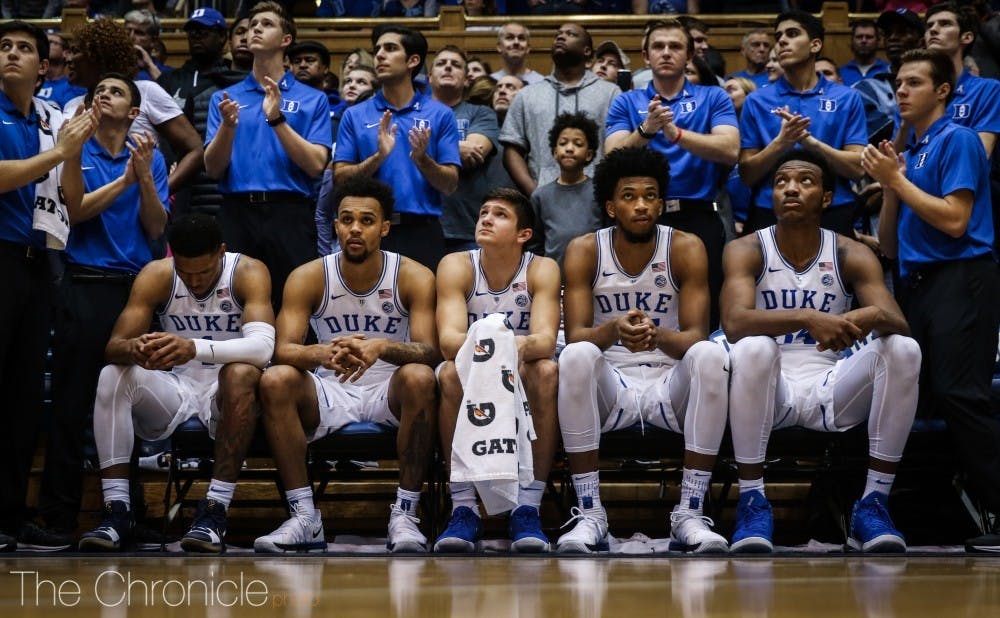 The Duke Blue Devils head out today for Omaha, Nebraska to take on the Syracuse Orangemen in the Sweet Sixteen. The Orangemen  are now familiar foes since they joined the ACC 5 years ago. Syracuse have beaten Arizona State,TCU  and Michigan State en route to the Sweet Sixteen. Coach Jim Boeheim in his 42 year has the Orangemen in the NCAA tournament for the 33rd time. 
   The Orangemen generally go seven deep on their roster and three players Tyus Battle, Oshae Brissett and Frank Howard normally play 40 minutes unless foul trouble develops.
    Here are their starters and key reserves.
 6-6 Soph.  Tyus Battle 19.3 points, 2.9 rebounds
6-8 Fr.  Oshae Brissett 14.9 pts, 8.9 rebs.
6-5 Jr.  Frank Howard  14.6 pts, 3.4  rebs.
7-2 Jr. Pascal Chukwu  5.3 pts, 6.8 rebs.
6-9 Fr.  Marek Dolezaj  5.6 pts, 4.9 rebs.
6-8  Soph.  Matthew Moyer 3.3 pts, 3.4
6-10 Fr.  Bourama Sidibe  2.7 pts, 3.2 rebs.
           Syracuse is averaging 66.7 points per game and allow 63.6. They are shooting 41.5% from the field and give up 39.1%. They are shooting 31.8% from three on 5.7 made per game and allow 32.1% on 7.9 made. They are out rebounding their opponents by 3.8 per game and commit 12.4 turnovers while forcing 12.8.
Notes: The game is scheduled for approximately 9:37 or 30 minutes after the Clemson-Kansas game. The game is in Omaha, Nebraska  and will be at the Century Link Center. Duke leads the all time series 6-5 and are 5-4 under Coach K.