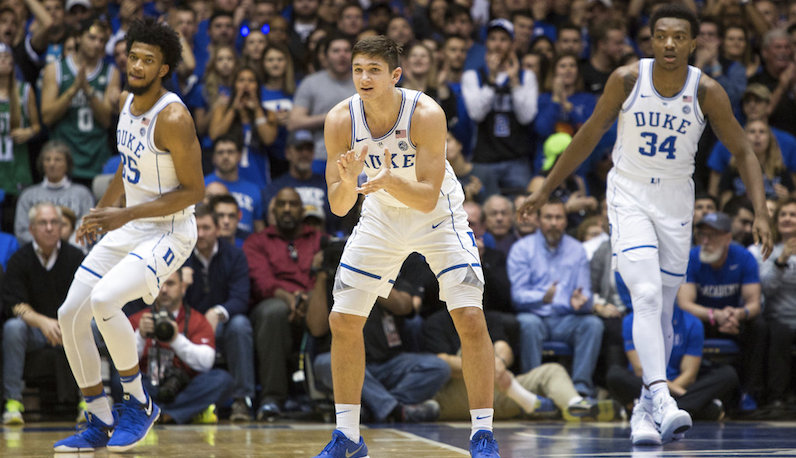 Duke advanced to the Elite 8 Sunday with a hard fought win last night over Syracuse and now will take on number one seed Kansas. The Jayhawks are led by Bill Self who in his 14th year in Lawrence.  The Jayhawks fended off a late challenge from Clemson last night. The Jayhawks will bring potent 3 point shooting team that averages 10 made per game and all five starters average double figures.
   Here are the starters and key reserves.
6-2 Sr.  Davonte Graham  17.3 points, 4.0 rebounds, 7.4 assist
6-8 Sr.  Svi Mykhailiuk  14.8 pts, 3.8 rebs.
6-3 Soph.  Malik Newman  13.5 pts, 4.9 rebs.
7-0 Soph.  Udoka Azuibuike  13.2 pts, 7.0 rebs.
6-5 Jr.  Lagerald Vick  12.1 pts, 4.9 rebs.
6-5 Fr.  Marcus Garrett  4.2 pts, 3.4 rebs.
6-8 Soph. Mitch Lightfoot  3.9 pts, 3.1 rebs.
6-9 Fr.  Silvio  De Sousa  3.8 pts, 3.2 rebs.
   The Jayhawks are averaging 81.4 points per game and give up 71.0. They are shooting 49.5% from the field and allow 42.3%. They are shooting 40.5% from three on 10.0 made per game and give 33.0% on 7.8 made. They almost dead even in rebounds with a 0.1 advantage and they are committing 11.6 turnovers per game and force 13.0.
Notes: The game is scheduled for 5:05 pm and will be televised on CBS.