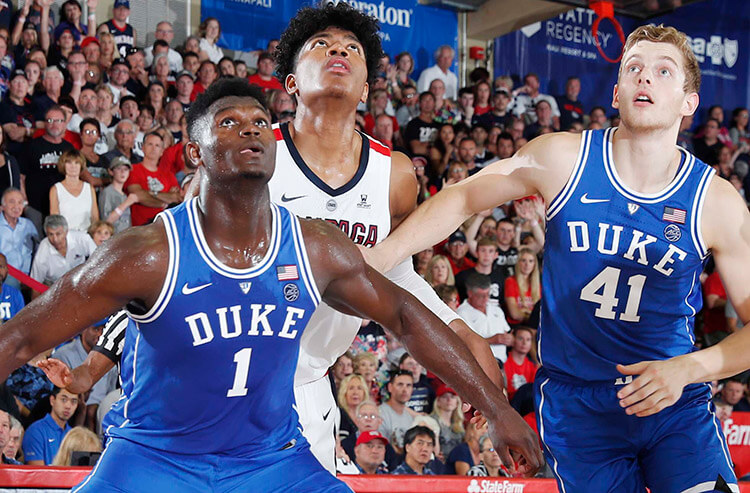 Duke will take on ACC partner Virginia Tech in Washington, DC on Friday night in a rematch of a game played in Blacksburg a month ago when the Hokies Duke a 77-72 defeat. Buzz Williams brings in the Hokies winners of 6 of their last 8 with both losses coming to another ACC Sweet Sixteen participant Florida St. The Hokies were missing point guard Justin Robinson in that game as was Duke missing Zion Williamson. Robinson didn't start the first two games of the tournament, but is expecting to return to the line up on Friday.
   Here are the starters and key reserves.
6-5 Soph.  Neil Alexander-Walker  16.4 points, 4.2 rebounds, 3.9 assists
6-10 Jr.  Kerry Blackshear Jr.  14.9 pts, 7.3 rebs.
6-2 Sr.  Justin Robinson  13.4 pts, 3.2 rebs, 5.0 assists
6-5 Sr.  Ahmed Hill 13.1 pts, 3.8 rebs.
6-6 Sr.  Ty Outlaw  8.7 pts, 5.4 rebs.
6-1 Soph.  Wabisse Bede 3.6 pts, 2.5 rebs.
6-3 Fr.  Isaiah Wilkins 4.8 pts, 2.3 rebs.
  The Hokies are averaging 73.6 points per game and allow 61.7. They are shooting 47.2% from the field and give up 40.4%. They are shooting 39.5% from three on 9.4 made per game and hold their opponents 32.7% on 8.7 made. They are out rebounding their opponents by 2.3 per game and are committing 11.2 turnovers while forcing 14.1.
Notes: The game is scheduled for 9:30 pm on Friday or 30 minutes after the Michigan St.- LSU game. It will be televised on CBS.