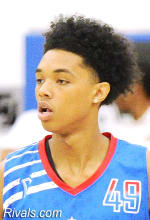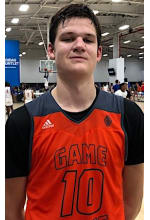 \
          Jalen Johnson                                 BJ Boston                    Walker Kessler                     
    With Duke finishing off another great class with the two additions of Matthew Hurt and Cassius Stanley in the last week they will move all of their interest to the 2020 class. This class will have to be a huge one with them possibly losing as many as eight players in 2020 with graduation and early defections. This class will have to be concentrated on front court players and also a top point guard.
   The coaches are already out visiting 2020 players during this open period and will be out this weekend for the first Nike EYBL tournament in Atlanta, Georgia played August 26-28, with Under Armour playing in Kansas City and Adidas running in Dallas,Texas at the same time.
 Here are a list of some of the players Duke will be following with a brief capsule on each.
Brandon (BJ) Boston , 6-6, 175 pound  wing forward from Atlanta, Ga. is rated in the top 10 of most recruiters rankings. Many think that he is the cornerstone of the 2020 class for Duke who if he commits will bring others along with him. He is a good shooter, but as you can imagine by his weight he needs to get stronger to be a force at the next level. He plays on the Nike circuit.
Jalen Johnson, 6-8 , 210 forward from Milwaukee, Wisconsin is rated in everyone's top 5 in this class. He is a point forward who is very unselfish and scores around the basket with either hand. He is also on the Nike circuit.
Walker Kessler, 7-0, 235 pound center from Fairburn, Georgia.  Kessler at one point was considering reclassifying into the 2019 class, but appears to have backed off from that. He is a top 20 players in this class who can shoot with either hand and is a good shot blocker who needs to get stronger. His family has strong ties to Georgia with his father and uncle both playing at Georgia.  Walker is on the Adidas circuit.
Sharife Cooper, 6-0, 160 pound point guard from Marietta, Georgia. He is rated in most everyone's top 20 in this class. He plays with BJ Boston on Nike AOT team.
Jeremy Roach, 6-2, 180 pounds from Fairfax, Virginia is one of the slickest pure point guards in this class. He is a pass first point who has a nice mid range shot, but does need to work on his range.  He is top 15 in this class and plays for the outstanding Nike Team Takeover. One note he is coming off a torn ACL from last fall.
Jalen Suggs, 6-5, 195 combo guard from Minneapolis, Minnesota.  Suggs is in post peoples top 15 in this class.  He is a great athlete who also is a quarterback in football. He is an excellent catch and shoot player. He plays on the Under Armour circuit.
Caleb Love, 6-3, 170 pound point guard from St. Louis, Missouri. Love who plays his high school ball at Christian Brothers for Jayson Tatum's father.  He is a top 25 player who plays on the Nike circuit.
Henry Coleman, 6-8, 230 pound forward from Richmond, Virginia is a top 50 player in this class.  He is a powerful player who does his damage around the basket.
R J Hampton, 6-4, 180 guard who prefers the ball in his and and is considered a point. He is somewhat an enigma in that he is more than likely to reclassify to the 2019 class and most have Memphis as the favorite if he does. If he stays in 2020 look for Duke to make a strong run at him.
 There will be many more players Duke will look at and make a run at in this class as I stated in the beginning of this article this class will have to be a huge one with them taking multiple bigs with the likely prospect of them losing Matthew Hurt and Vernon Carey to early entry and of course Marques Bolden and Javin Delaurier to graduation if they return.