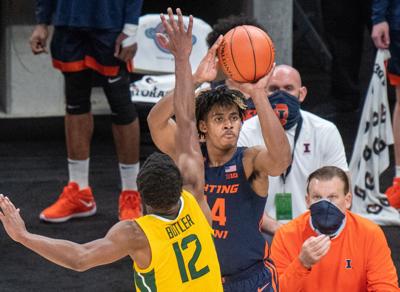 Duke will host a big and experienced Illinois team that will come into Cameron Indoor Stadium ranked 6th in the AP poll even after a loss to Baylor last week. The Fighting Illini is led by Coach Ralph Underwood who is in his 4th year after successful stints at Oklahoma State and Stephen F Austin.  The Illini started off the season with wins over NC A&T 122-60, 97-38 over Chicago and 77-75 over Ohio University before their lone loss to top ranked Baylor.
   The Illini will start 2 seniors, a junior, sophomore and a freshman. Here is their starters and key reserves.
6-5 Jr.  Ayo Dosunmu  23.8 points, 7.3 rebounds, 6.0 assists
6-3 Fr.  Adam Miller  14.5 pts, 2.3 rebs.
7-0 Soph.  Kofi Cogburn  13.0 pts, 9.8 rebs.
6-2 Sr.   Trent Frazier  9.0 pts, 4.0 rebs.
6-3 Sr.  Da' Monte Williams  7.0 pts, 7.8 rebs.
6-1 Fr.  Andre Curbelo  10.0 pts, 3,3 rebs.
6-9 Jr.  Giorgi Bezhanishvili   7.5 pts, 3.8 rebs.
6-6 Jr.  Jacob  Grandison  3.0 pts, 3.8 rebs.
    The Illini is averaging 91.3 points per game and are allowing 63.8. They are shooting 53.2% from the field and hole their opponents to 39.4%. They are shooting 45.1% from three on 9.3 made per game and give up 31.3% on 6.3 made. They are out rebounding their opponents by 26.5  per game and are committing 15.3 turnovers while committing 10.5.
Notes: The game is scheduled for 9:30 pm and will be televised on ESPN.