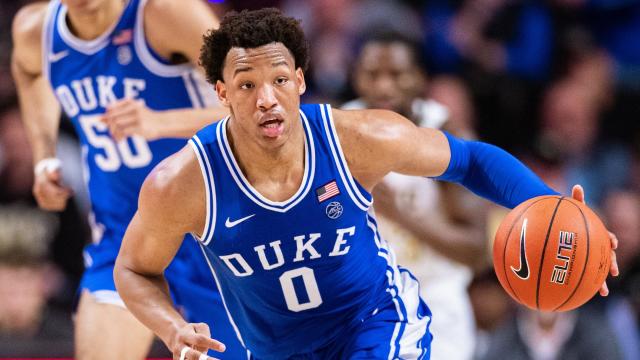 Duke returns to the road after short turn around from Las Vegas as they travel to Columbus, Ohio to take on the Ohio State Buckeyes on Tuesday night. The Buckeyes are led by Coach Chris Holtmann who is in his 5th year with Ohio State. The Buckeyes who were 21-10 last year and were number a 2 seed in the NCAA tournament are 4-2 in the current campaign and are coming off a buzzer beating loss in their last game to Florida. The Buckeyes  return 4 starters from last years team. 
  Here are their starters and key reserves.
6-7 3rd year Soph E J Liddell 22.5 pts, 6.2 rebs.
6-8 second yr. Fr. Zed Key  9.3 pts, 5.0 rebs.
6-6 Jr. Justin Ahrens  8.3 pts.
6-5 Fr. Mallaki Branham  21.3 pts, 5.1 rebs high school last year.
6-1 grad Sr.  Jamari Wheeler 5.0 pts, 3.8 assists Penn St. transfer
6-8 Sr. Kyle Young  9.6 pts, 6.2 rebs. 
6-7 Jr.  Justice Sueing  6.0 pts, 3.5 rebs.
6-2 Fr. Meechie Johnson  8.0 pts.
  The Buckeyes are averaging 75.3 points per game and are shooting 47.6% from the field and 37.3% from three while making slightly over 8 per game they are basically dead even on the  boards with their opponents.
Notes : The game is scheduled for 9:30 pm and will be televised on ESPN. This is their third meeting in the Challenge with each winning on their home court. Their other loss came against Xavier 71-65 with their biggest win coming over Seton Hall 79-76.