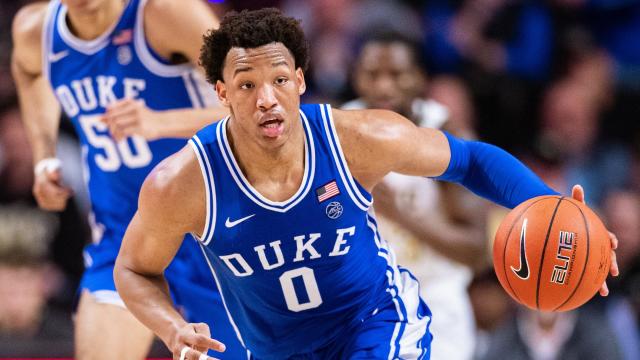 Duke will travel to South Bend, Indiana  for the second leg of their 3 game road trip tonight to take on a  hot Notre Dame Fighting team who is 9-0 at home with wins over Kentucky and North Carolina. They have won 10 of 11 and 4 in a row. They are led by Mike Brey who is in his 22nd season at Notre Dame.  As in most cases the Irish are experienced with 4 seniors and 2 juniors in their 7 man rotation.
Here are their starters and key reserves.
6-6 Jr.  Dae Goodwin  15.2 points, 4.8 rebounds.
6-5 Fr.  Blake Wesley  15.0 points, 3.1 rebs, 2.1 assists
6-9 Sr.  Paul Atkinson  11.6 pts, 6.3 rebs.
6-10 Sr.  Nate Laszewski  8.4  pts, 7.3 rebs, 2.3 assists
6-3 Jr.  Prentiss Hubb  8.1 pts, 2.8 rebs.
6-5 Sr.  Cormac Ryan  8.0 pts, 4.2 rebs.
6-5 Sr.  Trey Wertz  4.8 pts, 2.0 rebs.
Notes:  The Irish are averaging 71.6 points a game and allow 66.6. they are shooting 46.% from the field and hold their opponents to 44.% They are shooting 37.5% from three on 9.3 made per game and allow 35.4% on 7.1 made.  They are out rebounding their opponents by 0.6 per game and are 10.5 turnovers while forcing 10.9. The game is scheduled for 7 pm and will be televised on ESPN.