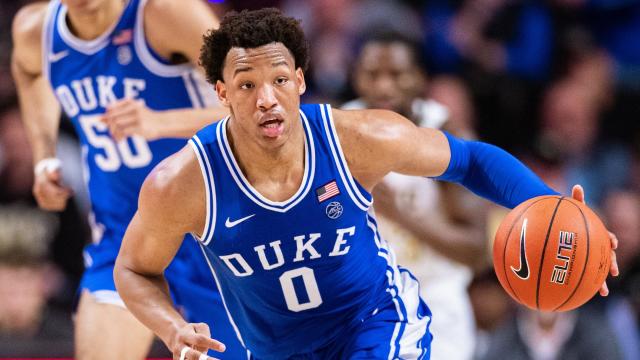 The Duke Blue Devils are back in the NCAA tournament after a 2 hiatus with one year being cancelled and not being selected for the field last year.  Fullerton is led by Coach Dedrique Taylor who in his 9th year. They are coming off a 6-10 Covid abbreviated year like many teams in 2021.  They return 4 starters from that team and they add 4 graduate transfers with two of them now starting. The winners of the Big West tournament play 8 players over 18 minutes per game.  
    Here are the starters and key reserves.
6-7 Sr.  E.J. Anosike  16.5 points, 8.3 rebounds is a graduate transfer from Sacred Heart.
6-2 Sr.  Damari Milstead  12.1 pts, 2.6 rebs, 2.8 assists is a graduate transfer from Grand Canyon by way of San Francisco.
6-3 Soph.  Lattrell Wrightsell Jr.  6.7 pts, 2.8 rebs.
6-8 Jr.  Vincent Lee  7.9 pts, 6.1 rebs.
6-8 Jr.  Tory  San Antonio 3.3 pts, 3.8 rebs.
6-1 Sr.  Jalen Harris  Sr.  9.2 pts, 1.0 reb.
6-6 Sr.  Tray Maddux Jr.  9.6 pts, 2.6 rebs, 
6-2 Soph. Dante Maddox Jr.  7.0 pts, 2.7 rebs.
Notes:  The Titans are averaging  70.3 points per game and allow 68.3. They are shooting 44.7% and hold their opponents to 43.8%. They are shooting 33.0% from three on 55. made per game, ( last 3 games in Big West tournament they averaged 9 a game on 27-58 shooting) and hold their opponents to 37.5% on 7.8 made. They are out rebounding their opponents by 0.3 per game and they are committing 12.3 turnovers while forcing 11.7.  They shoot 76.3% from the line.  The Titans are rated 149 by Ken Pom and offensively at 144, defensively at 164.  The game is scheduled for 7:10 pm and will be televised on CBS.